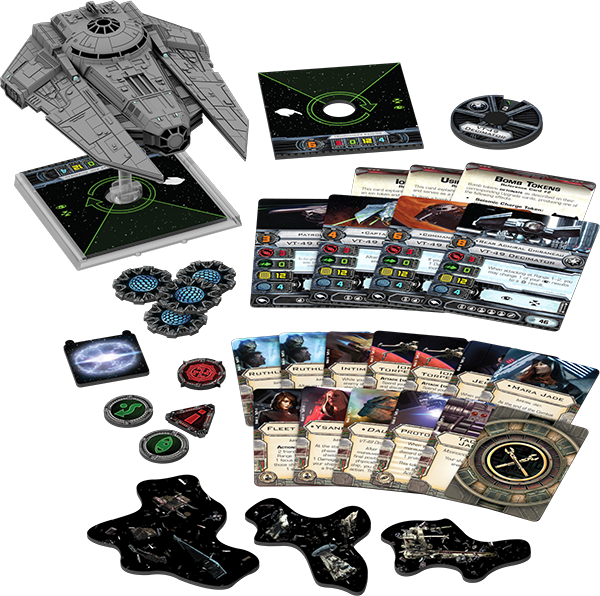 Publisher's Description
Edit
"The VT-49 Decimator is one of the Empire's most feared warships, often used to provide long-range reconnaissance or deploy raiding parties behind enemy forces. The VT-49 Decimator Expansion Pack brings this intimidating Imperial gunboat to X-Wing™ as a hulking, large-base ship that towers over smaller starfighters. One detailed and pre-painted VT-49 Decimator miniature comes with four ship cards and thirteen upgrade cards, including crew members like Mara Jade. You'll also find a new mission, three obstacle tokens, a maneuver dial, and all requisite tokens."
This is not a complete game experience. A copy of the X-Wing Miniatures Game Core Set is required to play.
Included Components
Edit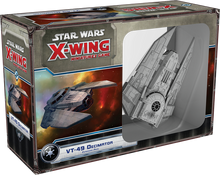 Upgrades Edit
Debris Cloud Tokens (x3)
Evade Token
Focus Token
Ion Token
Proton Bomb Token
Shield Tokens (x4)
Stress Token
Ion Token
Using Bombs
Bomb Tokens - Reference Card #2
Additional Information
Edit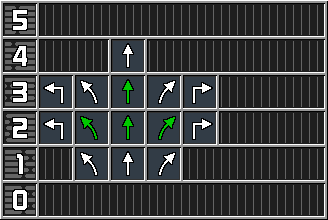 Community content is available under
CC-BY-SA
unless otherwise noted.