Publisher's Description
[
]
What do a desert scavenger and a fugitive Stormtrooper have in common with an iconic war hero and the galaxy's greatest pilot? They are all coming to X-Wing™ in the Heroes of the Resistance Expansion Pack!
With Heroes of the Resistance, Rey, Finn, Han Solo, and Poe Dameron all make the transition from the big screen to your tabletop. Rey and Han arrive as Resistance pilots for a new version of the Millennium Falcon with a sculpt and paint scheme that have been updated to reflect the ship's appearance in The Force Awakens. Finn supports the Resistance as a crew upgrade. And the galaxy's greatest pilot Poe Dameron can now fly to battle as Black One, sitting in the cockpit of his signature black T-70 X-wing.
In addition to its new starship miniatures, Heroes of the Resistance introduces ten ship cards and eighteen upgrades, plus all requisite maneuver dials and tokens. These include a Poe Dameron with a pilot skill value of "9," ship cards for both Han Solo and Chewbacca that feature new pilot abilities, three new unique Resistance X-wing pilots, new elite pilot talents, new Tech upgrades, and unique Title upgrades for both the Millennium Falcon and Black One.
This is not a complete game experience. A copy of the X-Wing Miniatures Game Core Set is required to play.
Included Components
[
]
Ships
[
]
Poe Dameron's T-70 X-Wing
YT-1300 (Alternate)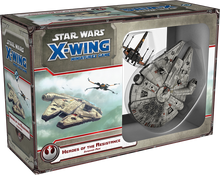 Pilots
[
]
YT-1300
[
]
T-70 X-Wing
[
]
Upgrades
[
]
Astromech
[
]
Crew
[
]
Elite
[
]
Illicit
[
]
Modification
[
]
Tech
[
]
Titles
[
]
Tokens
[
]
Dial ID Tokens (x2)
Focus Tokens (x2)
Shield Tokens (x8)
Stress Tokens (x2)
Weapons Disabled Token
Mission Tokens
[
]
Mission
[
]
Additional Information
[
]
Turret Primary Weapon (YT-1300)