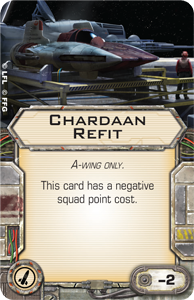 Chardaan was an Inner Rim world that lay at the intersection of the Hydian Way and Shipwrights' Trace. The planet was orbited by the Chardaan Shipyards. The Rebel Alliance used these yards to build some of the RZ-1 A-wing interceptors used in the Battle of Endor.
Card Text/Abilities
Edit
A-WING ONLY.
This card has a negative squad point cost.
Available Through
Edit
Community content is available under
CC-BY-SA
unless otherwise noted.