Expand your galaxy with the Bespin Playmat and Death Star II Playmat, now available via FFG's in-house manufacturing! Easily portable and made from slip-resistant natural rubber, these 3' by 3' playmats allow you to immerse yourself more fully in the Star Wars universe even as you battle for the fates of billions over the images of two of the galaxy's most iconic locations.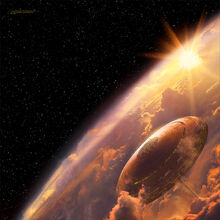 Don't let the gentle, light-soaked clouds of the Bespin Playmat lull you into a false complacency. Cloud City was home to some of the most pivotal moments in the Galactic Civil War. Now you can imagine new adventures set against a gorgeous full-color backdrop of Cloud City hovering at the edge of Bespin's red and orange skies. Race full-throttle through the starlit heavens as you dodge laser blasts and fire your proton torpedoes at enemy starfighters, or deploy your fleet to seize control of Bespin's valuable supply of tibanna gas.
Death Star Assault Playmat
[
edit
|
edit source
]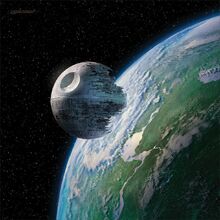 Deploy your fleet to the forest moon of Endor, and engage the enemy in an epic collision between capital ships and starfighter squadrons as the second Death Star looms menacingly in the background. Evoking the final, climactic chapters of the classic Star Wars trilogy, the Death Star II Playmat makes a perfect backdrop for your biggest and most important battles.
This product was first officially announced on FFG's web site on January 15, 2016, with a news article titled "Bring the Galaxy to Life".
Community content is available under
CC-BY-SA
unless otherwise noted.