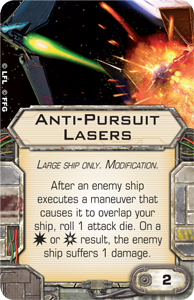 Card Text/Abilities
Edit
LARGE SHIP ONLY. MODIFICATION.
After an enemy ship executes a maneuver that causes it to overlap your ship, roll 1 attack die. On a hit or critical result, the enemy ship suffers 1 damage.
The effect of Anti-Pursuit Lasers only resolves if an enemy ship is touching the ship equipped with Anti- Pursuit Lasers after executing its maneuver.
The effect of Anti-Pursuit Lasers does not resolve if only the maneuver template overlaps a ship equipped with Anti-Pursuit Lasers. (X-Wing FAQ, Version 3.1.1, Updated 07/24/2015)
Available Through
Edit
Community content is available under
CC-BY-SA
unless otherwise noted.